CNN) -- Sending a letter will soon be a little more expensive, the U.S. Postal Service announced.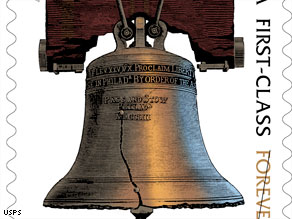 Customers can buy "Forever Stamps" at the current 42-cent rate until May 11.
The price for a first-class mail stamp will increase 2 cents to 44 cents, starting May 11.
The Postal Service said the price increase was necessary because of rising production costs. Under law, the price of stamps is not allowed to rise faster than the U.S. consumer price index, which measures inflation.
According to a written release, the increase will cost the typical family about $3 a year.
"Whether you're a consumer or run a business, the Postal Service continues to offer a good deal during a time when we're all looking for ways to save," said spokesman Stephen M. Kearney.
Until the new prices go into effect, customers can buy "Forever Stamps" at the current 42-cent rate.
"The Forever Stamp is always honored for a 1-ounce letter with no need for additional postage.
Remember to weigh you invitations before you mail them all out.  Size and weight of the invitation will determine the cost.  But remember that the respond card will be at 42 cent rate if mailed after May 11th unless you purchase the forever stamp.